This event has already occurred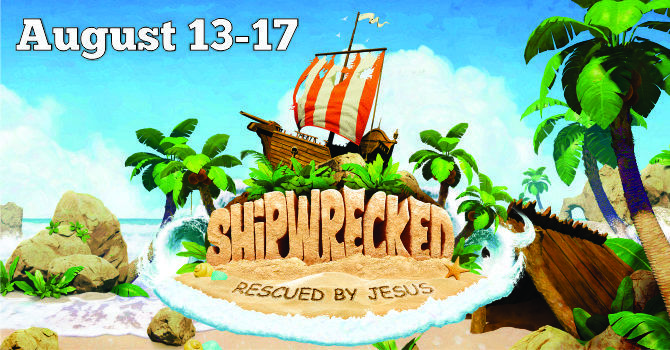 Save to your Calendar
This summer, Olivet Baptist Church will be transformed into SHIPWRECKED! for our annual Vacation Bible School program (VBS)!
From August 13-17th, SHIPWRECKED will be open for all elementary-aged children (entering Grade 1 - leaving Grade 5), and there will be a special part of the factory dedicated to preschool children aged 3-5.
SHIPWRECKED will not only include five days of active games, catchy songs, delicious treats and new friends, it is an opportunity for kids to venture onto an uncharted island where they will survive and thrive. Kids will be anchored in the truth that Jesus carries them through life's storms.
Spots are limited in both elementary and preschool programs and tend to fill up very quickly, so register early. If your children will have already attended SHIPWRECKED at another church during the summer, please consider leaving space for kids who haven't yet had a chance to experience the adventure.
Again, this year we will be charging a minimal fee of $10 for the first child and $5 for additional children living in the same household.
Click this LINK to register online! When registering, please enter your provincial medical number in the field labeled "medical".
Every participant must complete a consent form. Please print and sign the file attached at the bottom of this page and deliver it, along with your registration fees, to the church office any weekday from 9am-3pm before Friday, August 3. IF WE HAVE NOT RECEIVED YOUR CONSENT FORM AND FEE BY AUGUST 3, YOUR CHILD WILL BE DE-REGISTERED AND THE SPOT GIVEN TO ANOTHER CHILD ON OUR WAITLIST. Thank you for your understanding.
We can't wait for SHIPWRECKED to be open... and for you to be a part of that experience! See you in August!