Winter Retreat
Winter Retreat
February 10 - 12, 2018

Important: This event has already occurred.

6:00PM - 3:00PM
Keats Island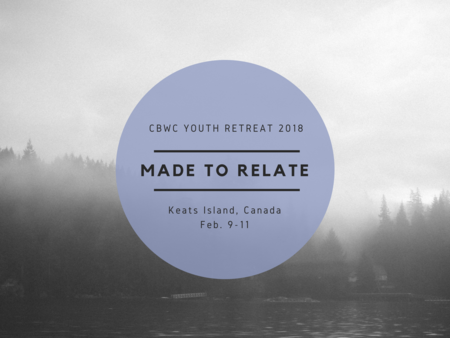 What?
A two-night multi-church retreat on Keats Island (across from Gibsons) exploring how God has created us to relate to Himself and eachother.
Who?
Grades 8-12
When?
Friday February 9th, departing Horseshoe Bay at 6:00pm to Sunday February 11th, 2:30pm return.
How?
To register, go to https://www.olivet.bc.ca/ministries/made-to-relate and fill out the form. Please provide payment of $150 to your sponsor church--this covers ferry to the island, food and accomodation. If cost is an issue, please inquire with your youth coordinator about subsidisation. For more details-what to pack, what to expect, how to get there-see the brochure below. Registration ends January 21st.
Ministry Youth
Return to Events
---