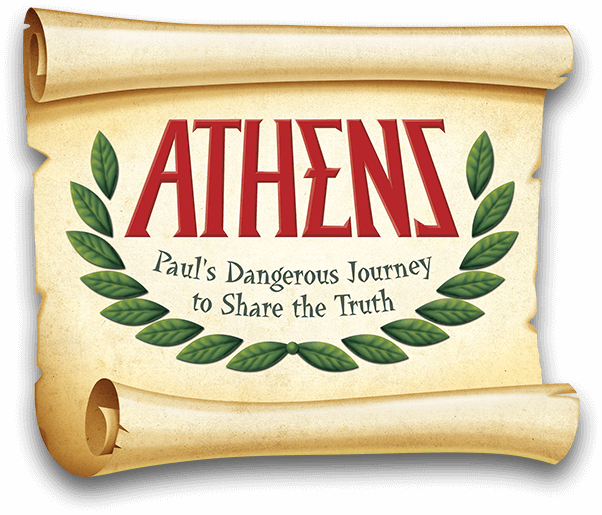 *** Registration for VBS ATHENS is now open!***
This summer for the week of August 12 - 16 we will be transforming our church into the ancient Grecian metropolis of ATHENS where kids can experience first-hand a Holy Land Adventure and join Paul's Dangerous Journey to Share the Truth.
To register you will need to do two things to secure your spot,
Register at

https://vbspro.events/p/events/olivetathens201
Print, complete, and return the Consent form below, and return it to church office by August 2nd, along with your registration fee*
*There is a small registration fee of $10 per child, and $5 for each additional sibling at the same address. The purpose of the fee is to help avoid "no-shows" for kids who have been registered.
New for 2019:
Age limit has been raised to 4 years old.
If you have a 5 year old who is starting kindergarden in the fall, you have the option of registering them in either the preschool group or the school age group. Please indicate your preference in the "comments" box in registration form.
For a sneak preview of the camp, check this out: ATHENS: Paul's Journey to Share the Truth
Waiver: see attachment below
BI-WEEKLY DROP-INS - During July and August we offer 2 fun mornings each week of play, games, meeting friends, crafts, and snacks for kids ages 6-12 on Mondays & Wednesdays from 9:30am - 12:00, from Wednesday July 3 through to Wednesday August 21 (except during the VBS week). This is a FREE program, and you can register your child at the church sign-in table the first time they participate. Please note that the Drop-in days have changed from Tuesday & Thursday to Monday & Wednesdays.
THROUGHOUT THE YEAR
On Sunday mornings we offer programs from 10:30-11:30 for 3 age groups:
Nursery (birth to toddler)
Preschool (toddler to Kindergarten)
Grade school (Kindergarten to Grade 5).
Join us for joyful worship, creative teaching and fun activities, in an environment where kids can:
connect to God
find their place in His Big God Story, and
respond to Him through the power of the Holy Spirit.
PARTNERING WITH PARENTS
The Holy Spirit is God's Chosen Teacher. He is the One who makes spiritual growth and formation happen when and as He chooses. Our role, as ministry leaders (and yours, as parents/caregivers) is to create space for the Holy Spirit to meet with our children. One of the ways we do this is through creating "Environments" that God clearly uses to form His followers. You may learn more about these 10 Environments from the document below.
In addition, we believe in 7 core ideas that form a strong foundation of a Family Ministry partnership between families and the church. You may learn more about these 7 Pillars of Family Ministry in an additional document below.
Parents/Caregivers are the primary faith nurturers of their child's faith, and we believe it is our role as partners of Parents/Caregivers to equip them for faith building at home.
We do this through:
sharing a common vision through the 10 Environments, and 7 Pillars
weekly emailing the At Home Weekly preteach for each week's upcoming lesson
providing a FREE copy to each family of "Spiritual Parenting" by Dr. Michelle Anthony
throughout the year, presenting a few special teaching sessions for parents of specific age groups on topics such as Blessings, Praying, and My Bible.
There's lots happening at Olivet Kids - come join us and see what we're all about!